About Us
Haga click aqui para información en Español.
Gailes' Violin Shop, located in College Park, Maryland, specializes in quality instruments, bows, repairs and restorations. We also carry a large selection of music and accessories.
Bill Gailes was majoring in music performance at the University of Maryland in 1974 while working as a free-lance musician and studying violin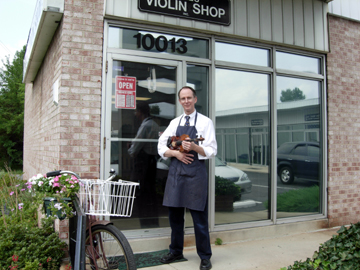 making with a local craftsman. After completing his first violin, Op. 1 No. 1, in 1975, Bill decided to concentrate on making and repairing bowed stringed instruments. He continues to study restoration technique at summer sessions with Hans J. Nebel (almost every year for over 30 years). He has studied with Arnold Bone on bow rehair and repair, and with Samuel Kolstein (yes, once upon a time we did bass repairs), and even a short course with the great Dario D'Attili in 1975. Today Bill's time is divided between repairing client and shop-owned instruments, sampling and testing new and old instruments and bows for possible additions to our inventory, and repairing varnish on our old and antique instruments.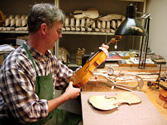 David McDermott has been working with Gailes' Violin Shop since 1985 when he graduated from the Chicago School of Violin Making. In addition to fine repairs and restorations, he is a gifted maker of violins, violas and cellos. His instruments are available at Gailes' Violin Shop and pictures are available on the violin page.
Tom Carroll has worked with Gailes' Violin Shop since 1976. Tom studied with Geary Baese and now does all of the varnish work on our 'white' instruments. He also studied with Hans Jurgen Nebel and does some repair work at the shop. In addition, Tom has his own business, buying instruments in the white, varnishing them, and selling them at shops throughout the country from Maine to Georgia to California and Washington, and including Gailes' Violin Shop.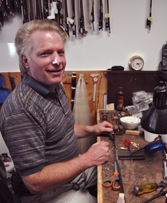 Mark Mihlbauer has been responsible for all of our bow repairs, restorations and rehairing since 1980. He studied at the University of New Hampshire Violin Craftsmanship Institute. He particularly enjoys the challenge of restoring antique bows.
Susan Huemrich joined the Gailes' Violin Shop staff in 2003. She studied business at Robert Morris University and now manages our business office. In addition, she assists clients with instrument rentals and purchases and maintains the music inventory.
Eddie Matus
is a graduate of the Violin and Bow Making Schools of Cremona, Italy, as well as of the UTU Guitar Making School of Uruguay. As a violist, he was a member of the various music groups, ranging from symphony orchestras to popular music groups. Eddie speaks three languages, Italian, Spanish, and English.
Din Vilela is our newest aprentice. He came to the US from Peru in 2012 and began working for the shop shortly thereafter. He has a natural ability for violin repair and is progressing very quickly. When he is not working at GVS, he races mountain bikes.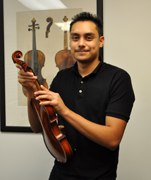 Osvaldo Rivera, a graduate of Parkdale High School, he now attends Prince Georges Community College. He plays soccer and other sports. He also plays guitar. He is planning to become an engineer.
Kiara Rivera-Rodriguez is a graduate of Parkdale High and enjoys bachate style music. She is valuable at GVS because of her organizational skills and attention to detail. She plans to study Medical Assisting because she enjoys helping others.
Jordan Johnson is a senior at the University of Maryland, studying violin with Dr. James Stern. He plans to persue an orchestral position.
Betty Gailes has worked at Gailes' Violin Shop off and on since 1999 when she and Bill got married. Currently she works mostly from home maintaining the website and handling all aspects of advertising. When she's not working for GVS, she teaches music full-time in an elementary school.