Bam Cases
We are now carrying a selection of Bam cases for violin and viola. These lightweight, durable cases are popular among professionals and amatuers alike.
Zip Cases for Cello


are here and going fast!

Year after year we see so many cellos come to our shop with broken necks that we have been looking for a cost-efficient case to provide some protection when kids are riding the school bus, going to festivals, even just walking through crowded school hallways. At $185.00 the Zip case costs only a little more than a good-quality, soft cover, and a whole lot less than the cost of a broken neck or a totaled cello.
To the best of our knowledge, we are the only supplier of this special, new product in the U.S.A. The Zip case is light-weight, only 9 lbs., and it has wheels! We have had it upgraded with an industrial-strength zipper, made by the Japanese company YKK. The case is covered in a tear resistant woven nylon which comes in a choice of five colors: black, blue, red, gray, and brown. The body is of molded, stiff rubber, laminated with rigid foam, lined with a soft black fabric to protect the cello's finish from scratches. These great cases are only available in full and 3/4 sizes.
For more information and pictures, go to the ZipCase page.
Planning to Rent an Instrument?
Print out our Rental Agreement before coming in to the shop and save time! Click here.
George Craske Violin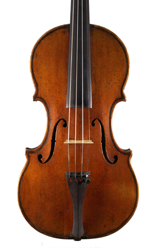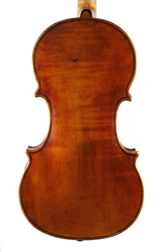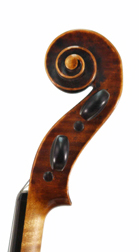 We have a beautiful example of a George Craske violin. George Craske was an English maker, born in 1795. He was possibly the most prolific maker ever. When he died in 1888, W. E. Hill & Sons, London, bought the entire estate and completed any unfinished instruments.
This violin bears the label Craske/W.E. Hill & Sons. The neck is not by Craske. We do not know if it is by the Hill shop or someone else. The instrument is in nearly mint condition. It has an extraordinarily powerful sound, which is at the same time warm and projecting.
We are offiering it for .... Sorry, this beautiful violin has sold. Please stop by to see other extraordinary instruments in the same class.
New German Bows
Recently, Bill had the chance to be the 1st shop in the area to select from a collection of violin, viola & cello bows from German workshops, both master and commercial. After several hours, he picked out the best 100 to purchase. They are some of the finest German-made bows he has ever seen. They range in size from1/4 to full-size and are student grade through professional. To see pictures of a few of the bows, go to the Bows page and click the link at the top for "Pictures".
---
Gailes' Goes Green

As of June 11, 2009, GVS is running on 100% WIND POWER. We want to do all we can to reduce our carbon footprint. Getting our electricity from wind power is just one more step in that direction.